Business Solutions
Enterprise Solutions – NARCY
Relasoft builds consolidated data warehouses and delivers software solutions for main levels of Enterprise architecture: organizing databases, writing business applications and producing multi-dimensional analysis and reporting systems.
* Gathering and combining data from the ERP, standalone applications and third parties information suppliers lays the foundation for comprehensive analysis and reporting.
* Fully customized functional applications ensure that all data and business processes specifics are taken into account and handled as requested.
* Analytical tools convert information into knowledge, crafted separately for the business users and managers of different levels.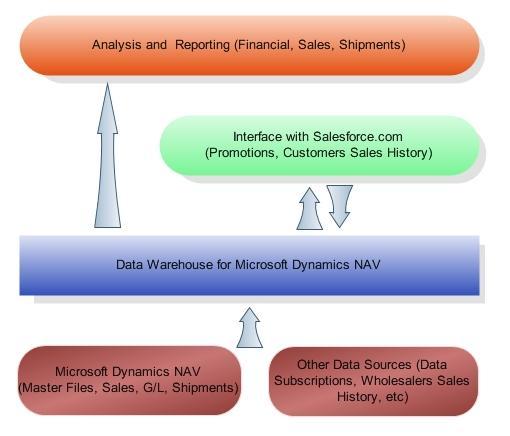 NARCY – Datamart and Integrated Reporting System for Microsoft Dynamics NAV (Navision)
Leading multi-national pet food manufacturer required a business intelligence system to analyze:
* Direct sales to distributors;
* Indirect sales by distributors to stores and breeders;
* G/L-based expenditures;
* Customer complaints and effect of marketing campaigns;
* Sales by related third parties;
NARCY was built as a solution addressing all these tasks.
NARCY features:
* Import Sales, Orders, Inventory, GL and Shipment data from replicated Navision SQL Server databases, as well as from a number of third-party data feeds;
* Built-in datamarts for national and international Direct Sales, GL, Indirect Sales by the company and major chains;
* A great deal of executive and operational reports and batches available on any details level with unlimited slice-and-dice options;
* Automated re-ordering system for major chain based on previous sales and the stores current inventory counts;
* A number of additional dimenstion and levels, like additional hierarchies by Product Range or Sales Rep;
* Built-in tool to cleanse the data and to combine cross-references to the same customers and products into consolidated entries;
* Tight integration with CRM Salesforce.com based on bi-directional data updates.
Relasoft Solutions Inc is a software boutique.
Ready to work with us? Contact us for more information today!