Solutions
Pharma Suite is a comprehensive set of software modules, designed exclusively for pharmaceutical manufacturers, distributors and 3PL companies.
The Suite provides complete functionality required of the standard pharma business tasks: chargeback processing, contract compliance monitoring, paying commercial rebates and fees, calculating government pricing numbers and processing Medicaid state invoices, validating utilization reported by the Medicare Part D Coverage Gap Discount Program, Texas Vendor Partner Program and combining all this information for a comprehensive Gross-To-Net Profitability Analysis and specialized dashboards and analytics.
Built to handle millions of transactions per year, the Suite combines easy and intuitive user interface with the utmost efficiency for both labor and computational aspects. Unified data model guarantees 100% accuracy for government pricing calculations and compliance.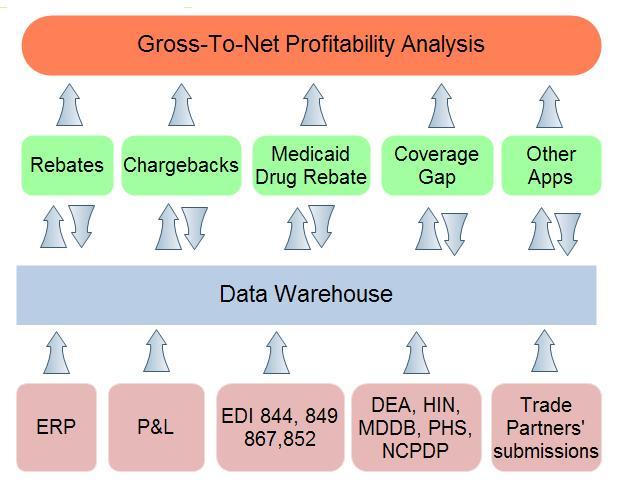 Close integration with ERP allows us to take into account business specifics of each customer and completely automate many processing tasks, making their handling more accurate, faster and easier.
Comprehensive design, superior flexibility, proven success and affordability makes Pharma Suite an ideal choice of software for pharmaceutical manufacturers.
Rebate Program features:
* Unified processing for rebates paid on direct, indirect or combined sales;
* Unlimited number of rebateable agreements and components;
* Variety of calculation rules: flat percentage, volume tiers, differential rebates, sliding scales, percentages in the product mix, bundle rebates, etc;
* Calculated and paid on GPO or account level;
* Full control of what to include or to exclude from rebateable sales: products, types of products, NDC, accounts, selling warehouses, indirect contract numbers, DEA and customer groups defined in ERP;
* Special treatment of short-dated products;
* Flexible terms;
* Tracking accrual rebates;
* Reports written for major GPO according to their specs;
* Extensive reporting on executive and operational levels;
* Tight integration with ERP.
Medicaid Drug Rebate Program module features:
* Fully automated algorithms to calculate AMP, BP, NFAMP, FCP, Inflation Penalty and other GP values;
* Processing state invoices for Medicaid and supplemental programs;
* Creating ROSI and PQAS reports;
* Employing 5/4 rule to validate product utilization reported by states and to prevent over-payments to states;
* Configuration settings to match billing patterns by states result in fully automated invoice processing, minimized to minutes per invoice;
* Automated creation of Product and Pricing files to load into DDR;
* Automated reporting for Texas Vendor Partner Program;
* Comprehensive audit reports.
Medicare Part-D Coverage Gap Discount Program features:
* Automated import of all files, sent by TPA and CMS;
* Automated comprehensive validation of detail lines by all standard and custom dispute codes;
* Minimal effort to make payments through ERP or directly to the bank;
* Creates all files, expected by TPA: payment confirmation file, dispute file, negative balance summary confirmation;
* Tracking dispute history and preparing files for appeals;
* Supports full processing for the Negative Balance Summary file;
* Built-in dashboard and analytics to find outliers and detect trends.
CGDP software is kept up-to-date with the latest releases, published by CMS.
Gross-To-Net and Profitability Analysis features:
* Unified view on data coming from ERP, third-party programs and fiscal statements;
* Calculation of accurate values for all income and expenses;
* Distribution of all profit-affecting factors to transaction level by a number of available ways: by gross sales, profits, quantity shipped, invoice lines, number of invoices;
* Smoothing chargebacks and credits accumulated over time;
* Special treatment of specialized credits: wholesalers service fees, WPMs, Price Protection, Contract Service fees;
* Variety of profits and KPIs to analyze the company performance by any segment of its customers, products or sales reps with unlimited slice and dice options;
* Business Intelligence reports for users of different levels;
* Elaborate analysis for senior managers, automating tasks usually performed by administrative assistants: segment sales analysis, profitability statements and others, usually requiring tens of man-hours to prepare;
* Calculation shelf-stock adjustments based on purchasing history and the current inventory;
* Budgeting and forecasting analysis;
* Detailed security.
Relasoft Solutions Inc is a software boutique.
Ready to work with us? Contact us for more information today!